Artist Paintings
My destiny begun to unfold with my painting in 1985 as an expression of creativity with color, form, shapes, dreams and freedom of moving energy . My painting become a part of my works with glass and fire with the movement that works together as one.
If you would like to visit or Purchase One of my paintings in my gallery please contact 303-399-4066
For the following items, tax and shipping costs will be added at checkout.

…
"Carve" – (4″ x 4″) – $198.00 +tax
…
"X-alante" – (36″ x 48″) – $365.00 +tax
…
"Arabian Sea" – (36″ x 48″) – $450.00 +tax
…
"Rainbow Cheif" – (54″ x 54″) – $1700.00 +tax
…
"Loco Motion" – (36″ x 48″) – $377.00 +tax
…
"Metropolitan" – (36″ x 48″) – $1,300.00+tax
…
"Pixie Styx" – (42″ x 42″) – $1,500.00 +tax
…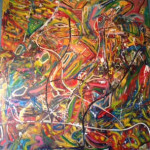 "Abstract Painting"  – $3,900 +tax